Home Buyer's Edge: How to Get Your Offer Accepted in 3 Easy Steps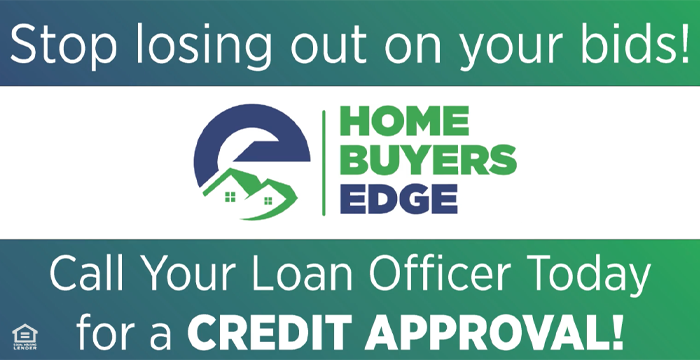 Getting a Full Credit Approval can save you the frustration of getting your offers rejected in today's competitive housing market. A Full Credit Approval goes beyond mortgage pre-qualifications and pre-approvals, as a Full Credit Approval involves a complete review of your income, assets, and credit by an experienced Underwriter.
What is Home Buyer's Edge?
Home Buyer's Edge is the full credit approval program that gives buyers the opportunity to have every aspect of their credit profile verified by a mortgage loan underwriter. In the mortgage process, the underwriter is the final decision-maker for approval or denial, which is what gives credit approvals a clear advantage over mortgage pre-qualifications and pre-approvals.
Buyers have a few options when it comes to tackling the home-buying process. Below is an outline of each of those options, including their differences and how they can benefit you in today's competitive market:
Level 1: Pre-Qualification
A pre-qualification consists of verbally informing your loan officer of your income, savings, and assets. Your loan officer will also run your credit.
Level 2: Pre-Approval
A pre-approval consists of providing your loan officer with your pay stubs, bank statements, W2's, and running your credit.
Level 3: Credit Approval with Home Buyer's Edge
A credit approval requires the same documentation as a pre-approval; however, an experienced underwriter will review your financial situation instead of your loan officer. As a result, the full credit approval is a complete, upfront vetting of your finances by the ultimate decision-maker, instead of just the salesperson.
Verifying your income, assets, and credit shows that you're a more qualified buyer, and you'll have a competitive advantage over other bidders by providing the strongest offer.
3 Steps to Getting Your Offer Accepted With Home Buyer's Edge
Step 1: Complete Our Mobile Application
Step 2: Upload Your Documents
The home loan process for a full credit approval requires more proof of the information on your loan application. Please provide us with the following documents:
W2's
Tax Returns
Paystubs
Bank Statements
Other documentation that may be relevant to your specific financial circumstances
Step 3: Get Verified
Our underwriters will verify your income, assets, and credit. Following this, we will issue you a fully-vetted credit approval that is subject to an appraisal.
Don't keep losing out on the home of your dreams. Contact one of our experienced loan officers to get your credit approved under our Home Buyer's Edge program and secure your competitive advantage today.