New Jersey Down Payments: Averages, Myths and Minimums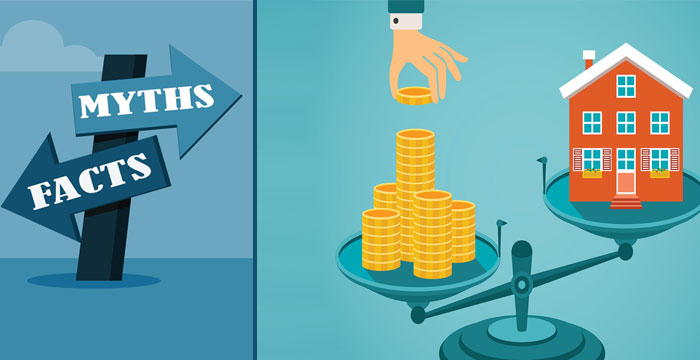 For many home buyers in New Jersey, the down payment represents the single biggest obstacle to homeownership. But in some cases, it's only a perceived obstacle. The truth is today's down payment requirements for New Jersey mortgage loans are lower than most people realize. Here's what you should know about it, as a home buyer.
A 20% Down Payment Isn't Always Necessary
A 2016 survey conducted by the National Association of REALTORS® found that 66% of people thought they needed more than 20% for a down payment on a house. That's a common misconception.
The truth is borrowers don't necessarily need a down payment of 20% to buy a house. The average down payment among New Jersey home buyers is somewhere around 10%, and there are financing options available today that allow for an even smaller down payment. But a lot of people don't realize this.
Home Loans With Lower Investment Requirements
Can't come up with 20% when buying a home in New Jersey? You still have options. Here are some examples of financing strategies with a lower down payment requirement.
Conventional loans with 3%: Fannie Mae and Freddie Mac, the two government-sponsored enterprises that purchase mortgage loans from lenders, both offer programs with up to 97% financing. This means that eligible borrowers could potentially buy a home in New Jersey with as little as 3% down, using a conventional mortgage product.
FHA loans with 3.5%: The Federal Housing Administration's home loan program allows eligible borrowers to make a down payment as low as 3.5% of the purchase price or appraised value. This mortgage program is particularly popular among New Jersey home buyers who lack the funds for a larger down payment, which includes many first-time buyers.
VA loans with 0%: If you're a military member or veteran, and you're planning to buy a home in New Jersey, you should seriously consider the Department of Veterans Affairs (VA) loan program. Through this program, borrowers can obtain 100% financing, which eliminates the need for a down payment altogether. It's hard to beat.
As you can see, there are several ways to avoid a 20% down payment on a home in New Jersey. Granted, there are situations where a larger investment might be required. This is sometimes the case with "jumbo"mortgage products that exceed the loan limits where the home is being purchased. But for the average home buyer in New Jersey, there are low down payment mortgage options available.
Average Down Payment in New Jersey Is Closer to 10%
According to a report published at the beginning of 2017, the average down payment in New Jersey and nationwide was 11%. This was based on an analysis of home loan records from a mortgage lending software company.
This underscores the notion that New Jersey home buyers don't always need to put 20% down when buying a house. And yet many consumers believe that the 20% down payment is mandatory in all purchase scenarios. It's a common misconception that we are trying to dispel through our blogging efforts.
Using Gift Money from a Family Member or Third Party
Many of the mortgage products available today allow for down payment gifts from third parties. This is where the home buyer obtains money from a family member (or other approved donor) to help cover the down payment expense on a house.
While the rules and requirements vary, many conventional and government-backed mortgage programs allow for these gifts. The caveat is that the person providing the funds must also provide a letter stating that they do not expect any form of repayment. It has to be a gift — not a loan.
The bottom line to all this is that the mortgage lending industry is more flexible than many people realize. This is also true when it comes to down payment requirements in New Jersey. By combining a low down payment loan with financial assistance from a family member or other approved donor, home buyers can greatly reduce their upfront out-of-pocket expense.
Suddenly, those perceived hurdles to homeownership aren't so big after all.
Let's explore your options. NJ Lenders Corp. offers a variety of home loan products for borrowers across the state of New Jersey. Please contact us if you would like to explore your financing options, or if you have questions about the down payment requirements when buying a home in New Jersey.